Termites in Australia (sometimes called "white ants") are only small, but they put fear in every building owner... and with good reason! Termites cause close to a billion dollars in damage to homes and businesses in Australia every year. Termite damage can go unnoticed until it's too late, so getting regular inspections and knowing how to get rid of termites from your property is crucial.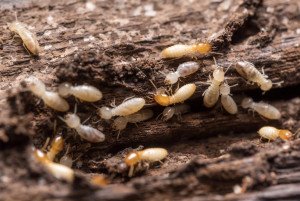 Termites spend their entire life searching for food... and that food is WOOD. A termite will eat wood occurring in nature or it will happily eat wood used in construction, for example your home! Newcastle offers an ideal location for us to live, but it also ideal for Termites. Perfect climatic conditions, a good mix of sandy soil conditions combined with warmer, moist temperatures (particular from September to January) plus densely populated areas with large concentrations of housing and commercial buildings makes Newcastle a haven for Termites.
Fact, termites are ever present and in their natural conditions will forage underground in search of dead or decaying wood to eat but if, in this foraging, they come across building material, such as the wood in your home, they can't differentiate and will happily attack that source of food as well.
Need your termite problem solved? Call us on 0427 571 447 today.
---
Habits of Termites
Termites are social insects that live in large colonies, sometimes numbering in the millions. They have a social structure of a queen and king, soldiers, workers and Alates (winged termites that fly out to establish new colonies, lose their wings and become the future kings and queens).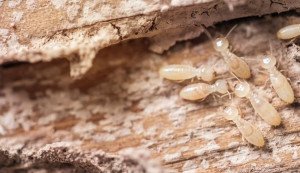 Termite nests are mainly located underground however in some areas their nest can be seen up in trees (arboreal nest) and on the ground, known as a termite mound. Soil contact is desirable but not essential for termites to survive, as long as they have a moisture supply and security in their habitat indeed, termites have been found in many places far removed from soil such as the top of multi-story buildings and even on boats!
Termites travel and forage for food up to 100mtrs from their nest in search of food and do play a vital role in nature by recycling dead and decaying wood although in doing this can't tell the difference between a dead tree, decaying wood or your timber stud walls. Once termites have found a food source, they will consume and partially digest the wood before returning to the nest to feed the rest of the colony.
---
Termites in Your Home
Termites prefer darkness over light and for this reason when they find a food source, they will eat the wood from inside and leave a thin wood veneer on the outside to protect them and keep them shielded from sources of light and other predators such as Ants. This process can happen in a very short period of time (months) and gives rise to termites being thought of as an unseen enemy.
Yes, a termite's diet is wood however they will stop at nothing in their quest to reach a food source and this is where a proper inspection, conducted by a licensed pest control technician, is essential in determining whether termites have invaded your home. He will then advise you on the best course of action on how to get rid of termites from your property.
Knowing where to locate termites on a property is essential. Termites can and do travel through concrete and brick for example. Termites will enter into a home via small cracks or openings in concrete or brick walls or slabs. They will track across these structures to locate a source of food within a dwelling and evidence of this can sometimes be seen by brown trails (mud leads) or a mound on a wall which is a mixture of soil, saliva and termite faeces.
In a structure, termites will eat anything made from wood or contains cellulose. They will devour timber flooring, timber ceiling joists, architraves, skirting boards, wall studs and they are ravenous for plasterboard which they will eat from the inside leaving a thin layer of paint on the inside to hide their activities. Termite damage can be extensive.
Need your termite problem solved? Call us on 0427 571 447 today.
---
The Elimination of the Termite Threat
For termites to survive they work together to construct a nest, send out workers in large numbers to locate a food source and return it to the nest and even groom each other along the way! This sociability is their strength however it's also a weakness than can be exploited to lead to their destruction.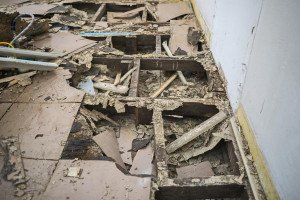 There are a number of ways to eliminate and prevent termites from entering your property depending on whether it's a new construction, established home, commercial building or renovation.
Basic service we follow to ensure a thorough assessment on each job:
Initial Assessment and Free Quote - one of our senior inspectors will do a free on-site assessment of your property to determine if termites are active, what species and if there is a termite management system in place.
Thorough On Site Inspection - every property is different so we make sure the treatment we provide is tailor made to your property. To this end, one of our licensed technicians will then do a thorough inspection of the dwelling as well as a complete outside check to determine the extent of any current, and possible future, termite activity. Perimeter Pest Control's technicians are well versed in the movements and behaviour of termites and know what signs to look for when checking a home for termite entry.
Treatment - after an inspection we will then discuss with you the best type of termite treatment for your property. Termite treatments 30 or 40 years ago used to involve chemicals that had question marks over their toxicity and the effects on humans and these have now been banned but since then the advances in chemical science has been nothing short of amazing to the point where our treatments can not only provide a barrier from termites entering your home, but can destroy all the occupants of a termite nest AND be completely safe for you, your family and even your pets! As well, these water based termiticides can be potent for termites for up to 7 years in most cases. It is with the use of these termiticides that the social factor of the termite can be exploited by the carriage of the toxin around and deep into a nest to kill all the inhabitants.
Follow up Inspections - this step is crucial. Once termites have been found on your property, and a treatment has been performed, it's important to do follow up annual inspections. Make no mistake, our termite treatments are the most effective and up-to-date methods found on the market today however, termites are clever and your circumstances may have altered (for example, you may have done home renovations, planted a new garden against the structure) and so it's important to have follow up annual termite inspections on your home.
The Perimeter Pest Control team have a vast knowledge of termites and their habits around Newcastle and we are well versed in the elimination of these pests. Contact us now for an initial termite inspection on your property.